Since Jeremy Corbyn resigned as Labour leader, hundreds of thousands of people who supported him and his programme have had to question what the way forward is for socialist ideas. When Jeremy was suspended from Labour, this question rose to the fore again, and again when he launched the Peace and Justice Project.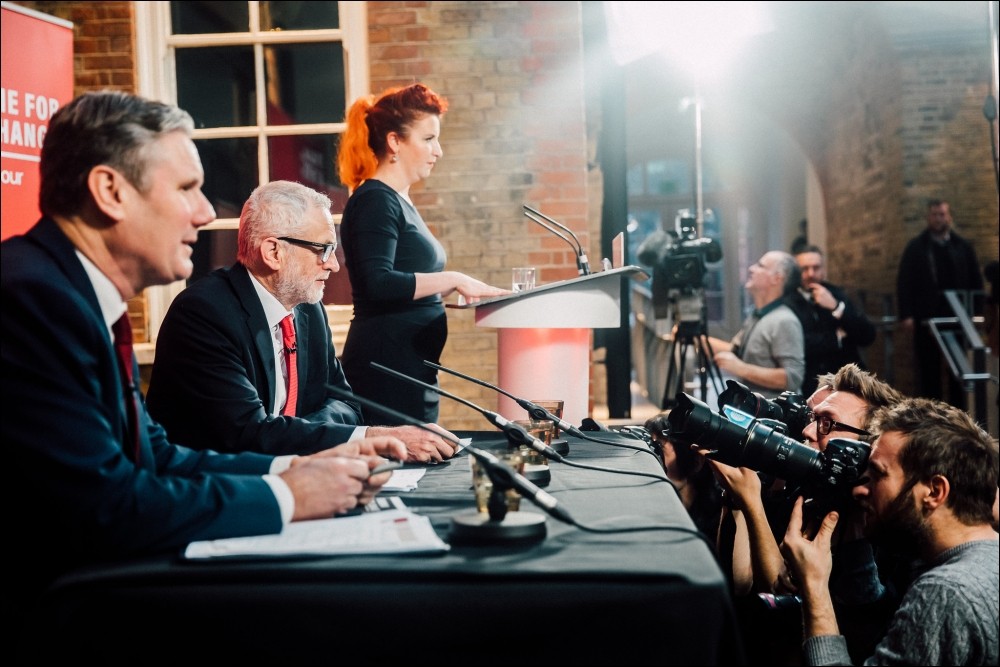 Here you can find a response to the Peace and Justice Project by the Socialist Party's General Secretary, Hannah Sell:
The Trade Unionist and Socialist Coalition is holding its Local Election Conference on Sunday 7th February 11am to 1:30pm. This will be a fantastic opportunity to hear about the electoral fight against Starmer's new New Labour. Click here for the Facebook event – there is a link to register in the Description.
Not heard of TUSC? Click here to find out more!
---
Below is a report from the protest in Coventry after Corbyn's suspension.
Coventry Corbyn Solidarity Protest: stay and fight, or a new workers party?
By Michael Morgan, Coventry Socialist Party
On Tuesday the 3rd of November members of Coventry Socialist Party attended a protest organised by Coventry Labour Left in solidarity with Jeremy Corbyn, following his suspension from the Labour Party. The protest was relatively small with around 30 in attendance, many of whom were members of left wing organisations involved.
Two approaches to the issue arose at the protest. All were in agreement that no, Jeremy Corbyn was not an anti-Semite, and that the capitalist media and the right wing of the Labour Party had led a concerted effort to smear him as such. Jeremy Corbyn was indeed one of the country's most ardent fighters against racism.
However, some on the Labour left, as well as some from other left wing organisations that operate within the labour party, argued for their 'stay and fight' position. This included members of Coventry Labour Left, Zarah Sultana in the form of a message read on her behalf and others. These speakers argued that the Labour Party is a mass organ of the working class, and that the lefts best course of action would be to petition the general secretary of the party (right winger, Starmer backed David Evans) and even to vote in National Executive Committee elections to fight for Corbyn's reinstatement!
The Socialist Party argues that these measures do not go nearly far enough. In effect this argument is one of continuing to feed the mouth that bit you. To plead to the functions of the Labour Party and its officialdom to right a wrong they committed regardless of the actual findings of the EHRC report or of the Labour party's rules is a strategy doomed to fail; if Starmer cared for the rules Corbyn would still be in the party!
This is why the Socialist Party argues for a new workers' party through the Trade Union Socialist Coalition, a political party made up of local campaigners, activists and trade unionists. Labour is not a party of the working class. Jeremy Corbyn presented a great opportunity to democratise the party's structures, to institute mandatory reselection and to reform Labour councils like the one in Coventry, which charges SEND pupils up to £600 per year to get to school. Yet this opportunity was not taken, and at some point that goes from being a political mistake to being politically disastrous as Corbyn has seen.
We need real working people to take political control and believe this is better done through a mass workers' party than through Starmer's Labour. We spoke at the protest to outline this message and handed out leaflets and sold several papers to passers by who took an interest in our ideas. 
---
Help us bring the challenge to Starmer's Labour and build a new mass workers' party!
You might be thinking about joining the Socialist Party, and the best step towards that is clicking below for a sign up form.w
Or at the moment you might be more interested in helping real anti-cuts campaigners challenge pro-austerity Blairite councillors in the May elections. The best step towards that is supporting TUSC!